A Journey
MY FATHER, SRI BIDHU BHUSAN DEB, KNOWN AS SRI BINAYAK DEB IN THE CULTURAL CIRCUIT OF NORTH BENGAL WAS THE ELDEST SON OF THE DEB FAMILY. INSPITE OF BEING A GOVT. EMPLOYEE HE WAS A VERY VERSATILE PERSON, HIS MAIN INTEREST WAS IN THEATRE. INFACT HE WAS KNOWN AS ONE OF THE STALLWARTS OF BENGALI THEATRE OF NORTH-BENGAL. IN THE YEAR 1967 HE MARRIED ONE OF HIS THEATRE GROUP MEMBERS, MY MOTHER SMT HENA DAS AND MADE HER A MEMBER OF THE DEB FAMILY AS WELL. EVEN PREGNANCY COULD NOT KEEP MY MOTHER AWAY FROM THE THEATRE. THE SHOW WENT ON EVEN AFTER I APPEARED CENTRE STAGE ON 5TH DECEMBER/1968. AS EXPECTED THEATRE ALSO BECAME A PART OF MY GROWING UP AND AFTER TWO YEARS, ON 15TH OF NOVEMBER, 1970 MY SISTER UJJAINEE THE MOST LOVED CHILD OF OUR FAMILY WAS BORN. SHE IS NOW ONE OF THE LEADING ACTRESSES OF NORTH BENGAL THEATRE.
OUR FATHER INTRODUCED ME AND MY SISTER UJJAINEE TO MULTIPLE CULTURAL ACTIVITIES. WHILE UJJAINEE STARTED TO LEARN SINGING & DANCING I STARTED ROMANCING ARROUND WITH TABLA AND GOT BISHARAD DEGREE AT THE TENDER AGE OF 14. HOWEVER PARALLELLY WE WERE ALSO INVOLVED DIRECTLY OR INDIRECTLY WITH OUR FATHER'S FIRST LOVE- I MEAN THEATRE. AT THE AGE OF 18, MY SISTER GOT THE "DISHARI AWARD" FOR HER ACTING IN THEATRE AND AFTER MY HIGHER SECONDARY EXAMS I TOO WENT TO KOLKATA PERMANENTLY IN 1986 TO BUILD UP MY CAREER AND TOOK ADMISSION IN RABINDRA BHARATI UNIVERSITY. MY SUBJECT BEING DRAMA, I ALSO CONTINUED WITH MY  TABLA UNDER THE GUIDENCE OF PANDIT ANINDA CHATTERJEE, BUT AFTER 3 YEARS DUE TO LACK OF TIME ( AS I HAD FALLEN IN LOVE ONCE AGAIN-THIS TIME WITH FILMS) I HAD TO PART WAYS WITH TABLA WHICH LEFT BEHIND THE SENSE OF RHYTHM AS A PARTING GIFT FOR ME. DURING MY UNIVERSITY DAYS I  REPRESENTED MY UNIVERSITY IN MANY INTER UNIVERSITY YOUTH FESTIVALS THROUGH OUT THE LENGTH AND BREADTH OF THE COUNTRY AND CONSEQUENTLY COLLECTED MANY PRIZES. DURING THOSE DAYS I WAS STAYING ALONE IN A RENTED HOUSE WITH SELF-COOKING. SO AS I HAD ENOUGH TIME IN HAND AFTER MY CLASSES, I GOT INVOLVED WITH A GROUP THEATER FOLLOWED BY A PUPPET AND MIME THEATER WHICH ENRICHED ME AND ENHANCED AND UPGRADED THE QUALITY OF MY CREATIVITY IN MANY A WAYS.
IN THE YEAR 1989 I COMPLETED MY GRADUATION IN DRAMA AND M.A. IN DIRECTION (DRAMA) IN 1991. BY THIS TIME I WAS TOTALLY  INVOLVED IN THE STUDY OF FILMS. I TOOK ADMISSION IN A FILM SCHOOL, NAMED WINGARD UNDER THE GUIDENCE OF SUCH A PERSON WHO WAS THE TURNING POINT IN MY LIFE AND BECAME MY GURU OF  LEARNING, THOUGHT, GOAL, AMBITION, ACHIVMENT, DESIRE, IDEALISM, LIFE AND ALL !!! HE IS SRI SAJAL BANDOPADHAY,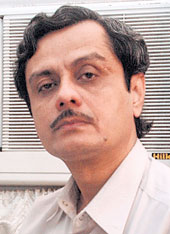 THE CONCEPTUAL FATHER OF MY LIFE, THOUGHT AND CAREER. HE NOT ONLY TAUGHT ME HOW TO MAKE A GOOD FILM BUT ALSO TO BE COME A GOOD HUMAN BEING ! HE INSPIRED ME TO DRIVE MY CAR TO MY DESTINY WITH OUT BOTHERING ABOUT ANY HURDLE WHICH MIGHT DEVIATE ME FROM MY FOCUS FOR I MUST REACH MY DESTINATION SUCESSFULLY AND AT ANY COST- HE SAID ! SO I AM STILL DRIVING ! 
IN THE YEAR 2006, ON 17TH SEPTEMBER I GAVE BIRTH A CHILD – CCN BINODAN, A 24 HOURS NON-FICTION PROGRAMME BASED TELEVISION CHANNEL IN SILIGURI. ALL CREWS WERE TRAINED BY ME. SHE GREW UP UNDER THE GUIDANCE OF ME. TO HELP HER TO BECOME INDEPENDENT  ON 5TH DECEMBER, 2008 I LEFT HER WITH CONFIDENCE TO PROPAGATE IN A LARGER SCALE. AS A FATHER WISHED HER EVERY SUCCESS IN THE NEAR FUTURE.
IN THE YEAR 2009, ON THE WAY TO KOLKATA I STAYED AT RAIGANJ  FOR 6 MONTHS AS A GOVERNS (HEAD PROGRAMMING) OF A CHILD (RC TV). I TRAINED AND NOURISHED HER (TRAINED THE TEAM AND STARTED 24 HOURS LIVE AND RECORDED NON-FICTION BASED PROGRAMMES) AND WHEN SHE STARTED TO WALK INDEPENDENTLY I LEFT HER WITH SO MANY UNFORGETTABLE MEMORIES.
AT LAST REACHED KOLKATA ONCE AGAIN AND JOINED IN THE FAMILY OF ZEE TV AS A SENIOR MANAGER PROGRAMMING ON 4TH JANUARY/2010 AND TOOK THE CHARGE OF HEAD PROGRAMMING OF AAKAASH BANGLA.
I FOUND MYSELF WAS FLYING WITH IN A LIMITED  SPACE IN AAKAASH WHICH SHOULD NOT BE. ON MARCH 2011 I LEFT AAKAASH BANGLA, I LEFT THE FINANCIAL SECURE LIFE ONCE AGAIN. BUT NOW I HAVE INFINITE AAKAASH TO FLY WITH A SPECIFIC MOTIVATION.
SOMETIMES I FELT AUDIO IS MORE POWERFUL THAN VIDEO, BECAUSE AUDIO ALLOWS YOU TO IMAGINE. SO DESIRED TO WORK IN AUDIO MEDIA, JOINED AND WORKED AS A PROGRAMMING HEAD IN 92.7  BIG FM KOLKATA OF RELIANCE BROADCAST NETWORK LIMITED FROM 28TH OCTOBER, 2011 TO 30TH NOVEMBER, 2012. DURING MY TENURE KOLKATA BIG FM STATION, FIRST TIME BECAME NO.1 IN IT'S HISTORY OF LAST SIX YEAR.
IN THE MEAN TIME I DESIRED TO EXPLORE MYSELF IN THE FIELD OF LITERATURE. HAVE STARTED TO WRITE DIFFERENT STORIES AND ARTICLES. HUMOROUS BASED ARTICLE 'PANCHFORON' ARE BEING PUBLISHED SINCE JULY, 2013 IN 'UTTARBANGA SAMBAD' (HIGHEST CIRCULATED NEWSPAPER IN NORTH BENGAL) IN EVERY FRIDAY. SERIAL SHORT STORIES 'RATER SHES TRAIN' PUBLISHED IN MONTHLY MAGAZINE 'TOTTHOKENDRA' FROM MAY, 2015 TO DECEMBER, 2016 IN REGULAR BASIS. APART FROM ALL THOSE WRITE-UPS WRITING FEW FEATURE FILM SCRIPTS BASED ON MY OWN STORIES. PREPARING MYSELF FOR A LONG RUN IN THE FIELD OF FILM INDUSTRY.
I LEARNT ENTIRE THINGS THROUGH AN ACADEMIC PROCESS, SO MEANWHILE MY FATE DRIVES ME TO ACADEMIC FIELD ALSO. RIGHT NOW I AM WORKING AS A MENTOR – FACULTY (ASST. PROFESSOR) OF CREATIVE ARTS AND MEDIA STUDIES IN K. L. UNIVERSITY AT VIJAYAWADA IN ANDHRA PRADESH. EVERYDAY I AM EXPLORING MY SELF IN FRONT OF MY STUDENTS, WHATEVER I LEARNT FORM ACADEMIC AND INDUSTRY AS WELL.
SO, MY DRIVING WILL BE GOING ON !!! AND ON !!! AND ON !!!